Helping Others Overcome the Challenges of Anxiety and Panic Attacks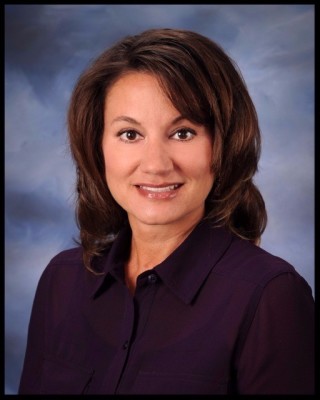 North Canton, Ohio, author Angela Brittain has been at the lowest low of panic disorder when irrational thoughts and negative feelings were overwhelming. But with God's help, her greatest test has become a testimony as she helps others overcome the challenges of anxiety and panic attacks.
 

A Word from Overcome Panic Author Angela Brittain: "Did you ever make a deal with God? I did…back when I was going through my darkest days of anxiety and panic. I couldn't find any books about panic attacks written from a Christian perspective. So I said to God that if He would help me overcome panic disorder, I would use the talent that He has given me to write a Christian book about anxiety and help others.

"I believe your past is someone else's present. What you've gone through, someone else is going through right now. And if you can take what you've learned and impart it to them, you're that much closer to fulfilling your purpose ."

Angela received her bachelor's degree in public relations from Kent State University and her MBA from Grantham University. She has worked in corporate communications and sales, social services, and as a contractor in the field of grief and bereavement with families who lost their military service member. As director of Fear to Freedom Ministries, Angela helps others overcome anxiety and panic via her website and events.
Angela presented at the International Conference on Panic Attacks at the University of Westminster in London. She also presented at several national conferences for the Anxiety and Depression Association of America (
www.adaa.org
). She conducted a series of stress briefings for the 3rd Chemical Brigade at Ft. Leonard Wood, MO, and spoke at the MarineParents Conference in St. Louis. Angela is a speaker at churches and events, and has been a frequent guest on television and radio programs, including 
It's A New Day
 in Manitoba, and 
100 Huntley Street
 in Ontario. Her segment on Huntley Street's 
Full Circle
 was showcased in the "Best of Full Circle" several years back.
Overcome panic and anxiety author, Angela K. Brittain, loads her books and resources with practical advice for coping with the symptoms associated with anxiety and panic. You can overcome panic and be free from fear!

The Don't Forget To Look Up Workbook: Disovering the Root of Anxiety, Panic and Fear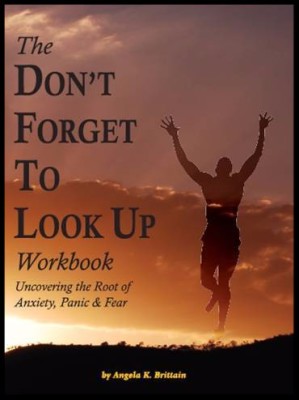 The Don't Forget To Look Up Workbook is a resource that will uncover the root that has kept the stronghold of anxiety, panic, and fear in your life. Drawing from God's Word and real-life experiences, anxiety author Angela Brittain of North Canton, OH, exposes the flawed thinking and mindsets that keep you in bondage to fear. 
   

By itself, or used in connection with Don't Forget To Look Up: A Christian's Guide to Overcoming Anxiety and Panic Attacks, this workbook will feed your faith and gently lead you from fear to freedom.


Each of the twelve chapters contains:
Teaching text

Questions for reflection

Sciptures for Meditation and Memory

Confessions for Holding Fast

Breakthrough Prayer

Thought Journal
Order your copy of The Don't Forget To Look Up Workbook, along with Don't Forget To Look Up: A Christian's Guide to Overcoming Anxiey, Panic and Fear in our
Panic Attack Online Store
now!
Endorsements for overcoming anxiety book and workbook: Don't Forget To Look Up 
"Angela Brittain's book and workbook are distinguishable in that they flow out of a personal experience with panic anxiety attacks, now one of the most common problems facing men and women around the world. She offers hope and help from a deep inner conviction that one can overcome this problem. Not only is her work solidly founded in the latest scientific knowledge about panic anxiety, but it integrates a thoroughly Christian perspective to both the experience and healing of this debilitating disorder."
"I heartily endorse Angela's workbook! This is a biblical, practical and thought-provoking guide. I strongly urge the reader to prayerfully work through the exercises and move 'from panic to purpose.'"   
Donald A. Lichi, Ph.D.
Psychologist,
EMERGE Counseling Services, Author of
Broken Windows of the Soul
Akron, OH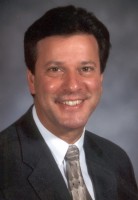 Archibald D. Hart, Ph.D., FPPR​

Author of more than 25 books
including Habits of the Mind,
and The Anxiety Cure.
Senior Professor of
Psychology & Dean Emeritus,
Graduate School of Psychology
Fuller Theological Seminary
Pasadena, CA



"In a world where theories come and go, Angela Brittain brings a solid, biblical approach to bringing freedom through truth to the anxious and fearful person. Wow! What an encouraging and hope-giving work. Angela did her homework in the name of love. A must-read for anyone in the helping profession or struggling with life in the grip of fear and worry."
"I found the book to be doctrinally sound and to be an excellent account of the experiences one has when going through this type of battle. The author offers answers from the Word of God as well as meaningful questions that will assist counselors, ministers, family members and others to understand and overcome this challenge."

TImothy R. King, Ph.D.,PCC-S
Psychologist,
Clinical Director
NE Family Care Counseling
North Canton, OH



Dr. I.V. Hilliard
Author of many books, including 
Mental Toughness for Success, 
Living the Maximized Life, and 
Secrets for a Better Life
Bishop and Senior Pastor
New Light Christian Center Church
Houston, TX